Leaks in your sewer line can be caused by many things, including age, poor sewer line installation, lack of maintenance, cracks in your foundation, or a build-up in your pipes. If you do have a leak, it may not be obvious. Sometimes the only indication that something's wrong could be a nasty smell in your home.
If you suspect a problem with your sewer line plumbing, it's important to call a trusted sewer line repair company as soon as possible. Your local bluefrog Plumbing + Drain® team is standing by 24/7 for residential sewer line repair.
Whether all your sewer line plumbing needs to be replaced, you just need a leak repaired, or you're looking for a trustworthy sewer line maintenance company, the sewer line plumbers at bluefrog are ready and waiting to provide you with all the sewer line services you need.
Bluefrog Sewer Line Repair Services
Save Time and Money With Cost-Effective Solutions
A leak in your sewer line can be hard to detect, but it can be harmful to your health if it goes untreated. The sewer line repair experts at bluefrog will start your repairs by inserting a camera into your pipes to determine where and what repairs are needed. Then we work to fully repair any damage to your pipes.
Bluefrog's experienced plumbers are ready 24/7 whenever you need a sewer line replacement. We have many replacement techniques depending on what best fits your home and sewer pipes. No matter the sewer line replacement job, you can always trust us to see the work through to the end and make sure your pipes are safe.
The best way to ensure your sewer line plumbing is not in disrepair or on the verge of breaking is by scheduling regular sewer line maintenance visits from bluefrog. We perform a thorough inspection and advise you on what repairs or replacements are needed to keep your home and plumbing safe and functional.
There's nothing like a burst sewer line to remind you to schedule plumbing maintenance. Whether it's the middle of the night or the middle of the weekend, bluefrog is ready to offer sewer line services, maintenance, and repairs.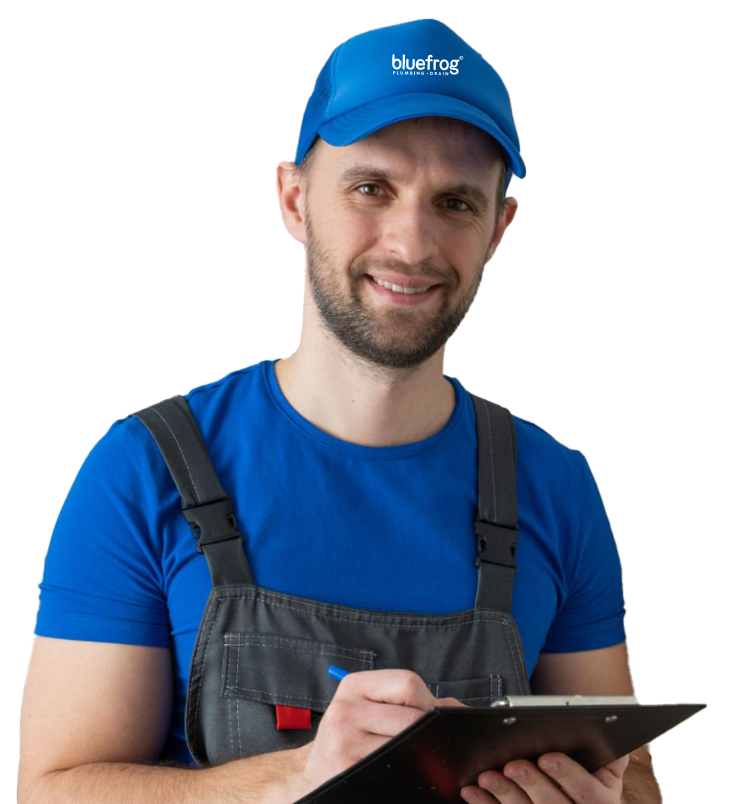 Bluefrog Sewer Line Installation Options
Exceptional Sewer Line Plumbing Services
When you need to fully replace a pipe in your sewer line, your bluefrog sewer line plumber will use hydraulics to burst the old pipe so that a new one can be safely installed.
When we reline a pipe, we insert a smaller pipe into the pipe that is damaged or leaking then expand the new pipe so it fits as tightly as possible against the original pipe. This is a more cost-effective solution than full sewer pipe replacement.
The most cost-effective way to protect your sewer line is with preventative pipe maintenance. Choose bluefrog as your local sewer line company and schedule your first maintenance visit today.
Why Choose Bluefrog For Your
Residential Sewer Line Repair
Trusted Sewer Line Company by Many
When looking for a sewer line repair company, it's important to find one that's trustworthy and has a good reputation. All plumbers at bluefrog are licensed, experienced professionals, and we won't leave until we're sure your repairs are satisfactory.
We know that a sewer line doesn't care what time of the day or night it bursts, so we live by the same policy. At bluefrog, we are ready for emergency sewer line services 24/7/365. We keep your home safe by ensuring you have the repairs you need when you need them.
Sewer line repairs, especially in an emergency, can be taxing on your time, mental health, and wallet. We do what we can to ease the financial burden you feel with flexible payment plans. For details about payment options, contact your local bluefrog team today.
What Our Happy Clients Are Saying About Bluefrog Plumbing + Drain®