If you own a home or are looking to buy one, it's always important to understand the risk of flooding in your neighborhood, especially if you have a house with a basement or crawl space below ground level.
If you are in an area with a lot of rain or snow, a residential sump pump installation is a vital addition to your home to protect your basement from water damage. Our professionals at bluefrog Plumbing + Drain® are ready to provide expert installation services whenever you need them.
But even once you have a sump pump installed, the work isn't over. A lot of things can affect the productivity of your sump pump — such as old age, clogs, power failure, and more — if it's not properly maintained.
Call the experts at bluefrog for 24/7 residential sump pump repair, installation, maintenance, or advice.
Bluefrog Sump Pump Repair Services
Trusted Sump Pump Installation Company
If you've been living with a basement sump pump installation, you may not realize how important your pump is until it stops working. When that happens, it's important that you bring in bluefrog to look at it right away to minimize water damage. We offer 24/7 sump pump repair services whether it's a pump we installed or not.
Wondering what sump pump you should install in your basement? It's time you talk to the sump pump installation experts at bluefrog! Our sump pump plumbers can help you understand the importance of a sump pump as well as which type would best serve you in your specific home and area.
If you live in a wet area, you know how important it is to keep your sump pump working properly. The best way to do that is with regular maintenance. The professional sump pump plumbers at bluefrog can perform regular inspections on your pump to ensure it is properly maintained and working as it should.
Do you really need a sump pump? If so, what kind should you get? The experts at our sump pump installation company are more than happy to answer any questions you have. Give us a call today.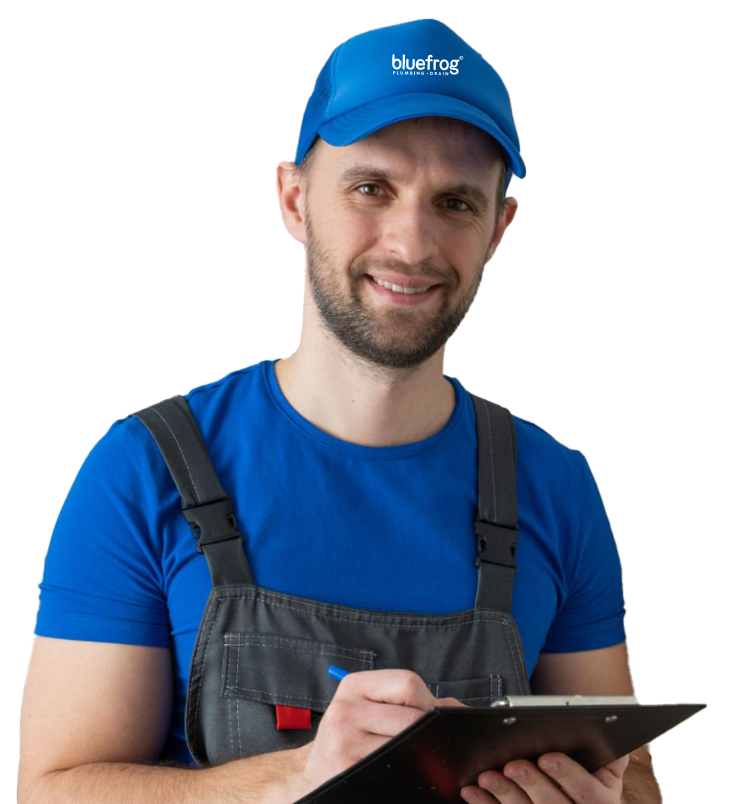 Why Get a Basement Sump Pump Installation?
Professional Sump Pump Services
If you live in a climate that sees a lot of rain or snow, you may be prone to flooding in your basement, garage, or crawl space. A sump pump collects the water instead of letting it seep into your walls and removes it from your property.
Without a sump pump to remove standing water from the lowest areas of your home, you are at risk of serious water damage. Schedule our sump pump plumbers to protect the integrity and value of your home with an expertly installed sump pump.
If you've never thought about whether you have a sump pump or not in your basement, now would be good to find out and to make sure it's in good shape. The worst time to find out you need sump pump repairs is after you have a flooded basement. Schedule a maintenance visit from your local bluefrog plumber today.
Why Choose Bluefrog For Your
Sump Pump Repair
Professional, Affordable Sump Pump Plumbing
Make sure you're scheduling sump pump plumbers who will do the job right. Bluefrog's licensed professionals always put the customer first when repairing or installing a residential sump pump. Put the well-being of your home's foundation into the hands of a plumber you can trust.
The upfront cost of a residential sump pump installation may be difficult to afford, but if your house is at risk of flooding, you may not be able to wait. We offer flexible financing options to ease the burden of the initial investment. Call us for more details about the financing available in your area.
What Our Happy Clients Are Saying About Bluefrog Plumbing + Drain®