There's probably nothing we use more in our homes than our plumbing. From showering and dishwashing to watering the lawn, we need water rushing through pipes for virtually every aspect of our day-to-day lives.
What do you do when a water pipe bursts? Do you have a plan for when you wake up to find that tell-tale water stain on your ceiling? Whether you find a pipe burst in house in the middle of the night, when you get home from vacation, or during Christmas dinner with your in-laws, your local bluefrog Plumbing + Drain® team is standing at the ready.
Our licensed professionals can identify, repair and replace any burst or damaged pipe in your home, and we're available for maintenance, upkeep and 24/7 emergency residential burst pipe repairs.
You can't choose the emergency, but you can choose the trusted experts who come to fix it. Book your pipe burst repair or replacement with bluefrog today.
Bluefrog Residential Burst Pipe Repair & Replacement Services
Keep Your Home Plumbing Functioning Seamlessly
A simple leaking pipe may not seem like a big deal, but if it's not repaired, it can cause extensive damage to your house or yard. It's vital that you call bluefrog as soon as you suspect you need leaking pipe repair. Once our plumbers locate the leak using a video camera, we perform a complete and thorough leaking pipe repair.
When you call bluefrog plumbers to your house to repair burst pipe, we begin by using special video camera equipment to locate exactly where the issue is, and we make a plan of action. We handle all types of burst pipe repairs, and we work quickly and efficiently to resolve the problem completely and put your home back together.
Routine pipe maintenance can prevent your pipes from corroding, rusting and breaking down over time. Having a bluefrog plumber come inspect your pipes regularly is the best way to prevent a disastrous pipe burst in house. You'll save money on costly pipe burst repairs due to leaky or broken pipes.
There's no such thing as a painless pipe burst repair or replacement process. At bluefrog, we offer excellent water pipe burst repair service from passionate professionals who are fully licensed and available 24/7/365.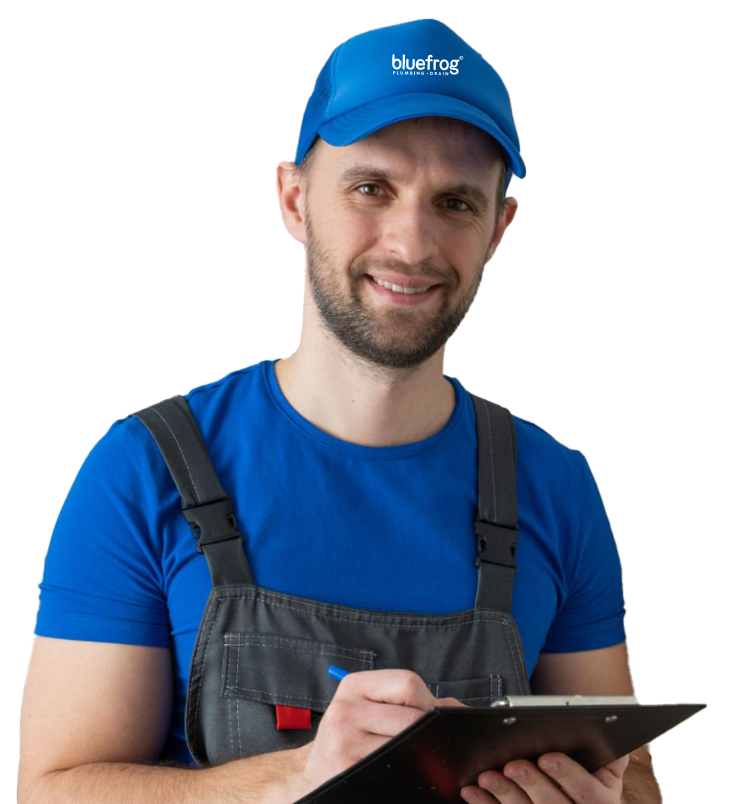 Causes and Preventions for Burst Pipes
Learn to Prevent Plumbing Emergencies
One of the most common reasons an indoor or outdoor water pipe bursts is from water freezing and expanding inside it when it's unusually cold. Plenty of other factors can cause damage, too, including:
Deterioration from age
Tree roots growing into the pipe
Clogs that are left untreated
Too much pressure
Other accidental damage, such as from digging
Fortunately, there are many things you can do to protect and prolong the life of your pipes.
Know where your pipes are before enovating or excavating.
Schedule routine inspections to maintain your pipes' integrity.
On cold nights, leave cabinet doors open, drip the water in your facets, and turn off outside water.
Before winter, wrap or insulate your pipes and faucets, especially those located outdoors or in the attic.
Why Choose Bluefrog For
Burst Pipe Repair & Replacement
Safeguard Your Home and Your Household Budget
You don't realize how important it is to hire a plumber you can trust until you work with one who charges too much, does a botched burst pipe replacement, or doesn't even finish the job. Our licensed professionals at bluefrog are committed to excellence. We promise to finish the job and do it right for a fair price.
At bluefrog, our plumbers are always ready to come to your home as soon as you call because a frozen pipe burst in your house or you noticed the tell-tale signs of a leak. We're available on weekends, holidays and in the middle of the night. Frozen pipe burst emergencies don't stick to business hours, so neither do we.
It's not always possible to budget for plumbing emergencies because when you need a burst pipe repair, you can't wait until the next paycheck. We do what we can to ease the burden with financing options for our frozen pipe burst repair services. Contact your local bluefrog for flexible payment plan details.
What Our Happy Clients Are Saying About Bluefrog Plumbing + Drain®