Drains are used daily for vital activities like washing your hands, showering, toilet use and washing dishes. You may not realize how much you use the drains in your house until a problem occurs.
If you've noticed strange smells or sounds coming from your drains, your sink is draining very slowly, or you've noticed reoccurring minor clogs lately, then it's time to call a professional drain cleaning plumber.
Our experts at bluefrog Plumbing + Drain®  are available 24/7 to provide residential drain cleaning services. It's much better to call a professional drain cleaning plumber rather than try to solve drain issues yourself with harsh chemicals that could cause damage to your pipes.
At bluefrog, we provide fast and reliable residential drain cleaning services for a fair price. Call today to schedule your drain cleaning service.
Bluefrog Drain Cleaning Services
Keep Your Home Drains Functioning Effectively
Our drain cleaning service involves a deep cleaning of your clogged drain to completely clear away all debris from the inside of your pipes. We use hydro-jetting to shoot a stream of high-pressure water into the affected drain until no build-up or residue remains. This process avoids using harmful chemicals that can cause damage to your pipes.
Drain clearing is less intense than drain cleaning. Instead of deep cleaning your pipes, we simply use a snake or similar tool to clear away whatever is clogging your drain. This service is faster than our drain cleaning service, but the results don't last as long as a thorough clean. Drain clearing is also used as the first step in the drain cleaning process.
Modern plumbing is one of the most necessary parts of our day-to-day lives, and yet, drain cleaning and other necessary pipe maintenance often get overlooked. Don't make the mistake of waiting until it's too late to clean or repair your drains. Schedule regular visits from our drain cleaning plumbing experts to keep your pipes strong and clean.
Don't wait for an emergency to schedule our technicians for residential drain cleaning. Regular maintenance can protect your drain from damage or a serious blockage. Call now to ask about our annual plumbing evaluations.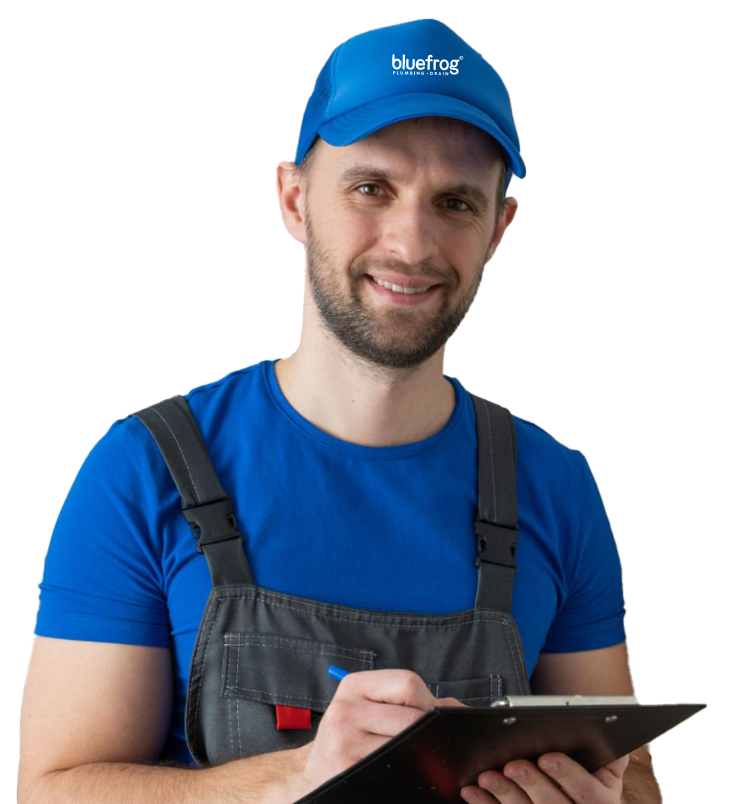 We Can Solve Drain Issues in Your Home
Trust Bluefrog's Drain Cleaning Specialists
You may be surprised how easy it is to clog a commonly used drain. Whether it's blocked with hair, grease, eggshells or even a child's toy, we have the skills and equipment to remove the blockage easily and without damaging your drain.
The damage from a faulty or leaky drain can be subtle but devastating to your home. If you suspect your drain is leaking, call one of our plumbing professionals for an inspection or repair, and we'll make sure everything is functioning properly.
Repeatedly using harsh drain cleaning chemicals can cause damage to the inside of your drain and pipes. If the damage has gone too far, our plumbing experts can provide you with a quote on our fast, affordable drain replacement.
Why Choose Bluefrog for Your
Residential Drain Cleaning
Professional, Affordable Drain Cleaning Services
When your drain is clogged or in need of cleaning, the last thing you want is a drain cleaning plumber who's unsure of how to fix it. Our technicians are experienced and skilled with all types of drain cleaning plumbing and are ready to spring into action to remedy all of your residential drain cleaning issues.
Having a clogged drain is far from ideal, especially if you have to wait until the weekend is over to get a drain cleaner to your house to fix it. We know that emergencies can happen any day of the week, which is why our expert plumbers are available every day of the week, day and night.
We keep our drain cleaning services as affordable as possible with no extra overtime or trip charges, but we understand that it can still be difficult to afford your necessary plumbing maintenance or repairs. At bluefrog, we offer several flexible payment options to help you stay on top of all your plumbing needs.
What Our Happy Clients Are Saying About Bluefrog Plumbing + Drain®