There are many benefits to scheduling a water softener and filtration system installation for your home. When filtered water comes straight out of your kitchen faucet, you save a lot of money on purifiers, filters, and water bottles.
Filtered water is also much healthier than hard or unfiltered water. You'll likely notice that you feel fresher after a shower, your dishes are cleaner, and the water tastes better following your water filtration installation.
If you're browsing water softener companies to install your filtration systems, consider bluefrog Plumbing + Drain®. Our expert plumbers are experienced with water softener installation and can walk you through the different systems that would benefit your home.
For the best water softener service in your area, contact bluefrog today.
Bluefrog Water Softener & Filtration Services
Trusted Plumber To Install Water Softener Systems
Many people choose to schedule a water softener installation in their homes so their clothes and dishes will be cleaner even with less soap. The most popular system we install uses reverse osmosis which is one of the most effective ways to give your water a better taste and feel. Looking for a plumber to install water softener at your home? Call bluefrog today.
Water Filtration Services
Our water softener company installs all kinds of water filtration systems to give your home healthier, better-tasting water straight from the tap. Our team of plumber water softener installation experts are knowledgeable about all systems and can advise you on the best filtration system for your home and area before we begin.
When choosing a water softener and filtration system installation for your home, you want to make sure the one you choose will fit with your existing plumbing and offer the time and money-saving benefits you need. Our water softener company installs all systems and will advise you on which is best suited to your family.
Once you have your dream residential water softener installation, you want to make sure it keeps running as it should. Fortunately, our plumbers who do water softener installation can also be scheduled to perform regular maintenance on your systems.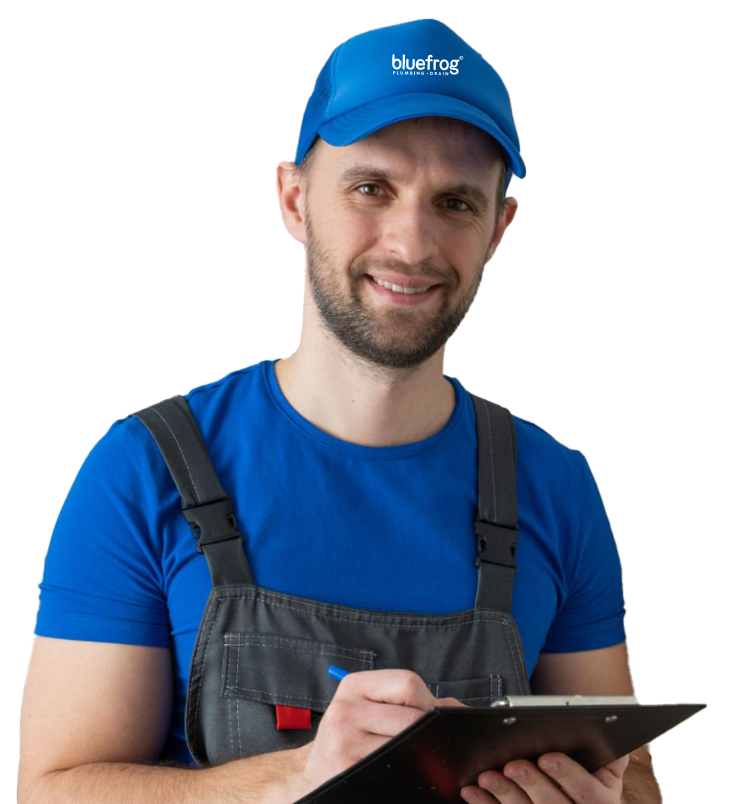 Types of Water Filtration Installations
Expert Water Filtration Company
Commonly used for well water, the particle filtration system removes larger particles such as sand and dirt from your home's water. This not only keeps your water looking and feeling cleaner, but it can also protect your pipes from physical damage.
A distillation system will remove much smaller particles from your water system, including metal and even bacteria. As professional water softener plumbers, the experts at bluefrog have the skills to install your distillation system.
The process of ultrafiltration removes tiny contaminants from your water using carbon filters. This can greatly improve the taste and smell of your water. If you're looking for a water filtration company to install an ultrafiltration system, bluefrog is ready for your call.
Why Choose Bluefrog For Your
Water Softener Plumbing
We Care About the Quality of Your Water
When you need water softener plumbing services, trust the licensed professionals at bluefrog to stand out from all other water softener companies. We take pride in our work and in making sure you are 100 percent satisfied with your new water softener and filtration system installation.
Sometimes you need water softener services that can't wait until the weekend is over. If you find yourself needing emergency plumbing services of any kind, your local bluefrog team is always ready to answer your call. Our experts are available 24/7/365.
As an experienced water softener company, we understand that you may not consider the initial investment to be worth the time and money-saving benefits of a quality water filtration system. That's why we do what we can to ease the burden with flexible payment options.
What Our Happy Clients Are Saying About Bluefrog Plumbing + Drain®