A gas leak is no joke, and it's not something you should try to solve on your own. For you and your family's safety, always call a professional if you suspect you have a leak in your home
Our team at bluefrog Plumbing + Drain® provides skilled gas leak detection services 24/7. We quickly identify where the leak is coming from and remedy the problem so you can get back to normal as soon as possible.
Even if you're not sure that what you smell is gas or you suspect your alarm might be faulty, it's always better to call us for a false alarm than to keep your family in a potentially dangerous environment.
If you suspect a gas leak, the best thing to do is to open up all your doors and windows, get your family outside, and call your local, trusted experts at bluefrog for residential gas leak repair.
Bluefrog Residential Gas Leak
Detection & Repair Services
Superior Gas Leak Protection
Our gas leak detection service offers you a trustworthy first line of defense against gas leaks by installing carbon monoxide detectors, natural gas detectors and gas shut-off valves in your home. We take pride in going the extra mile to double-check that everything is installed correctly and functioning properly. Schedule your gas leak detection service today with bluefrog.
Your local bluefrog team is available 24/7 to come to your home for emergency residential gas leak repair. When we arrive at your home, we always make it our priority to identify the root cause of the problem. Whether it's a faulty system, corroded pipe or extinguished pilot light, we'll get to the bottom of it and perform your gas tank leak repairs quickly and efficiently.
Gas Leak Maintenance Agreement
What's better than having a plumber show up any time of the day or night for a gas tank leak repair? Never having a gas leak at all! With our company's gas leak repair, routine maintenance agreement, you'll have the peace of mind that comes with regular inspections of your plumbing systems and gas lines. You'll always know that your family and pets are safe in your home.
A gas leak in your home is a serious plumbing emergency. You should never wait to contact your local bluefrog team. Our team is available for emergency services every day of the week, day or night.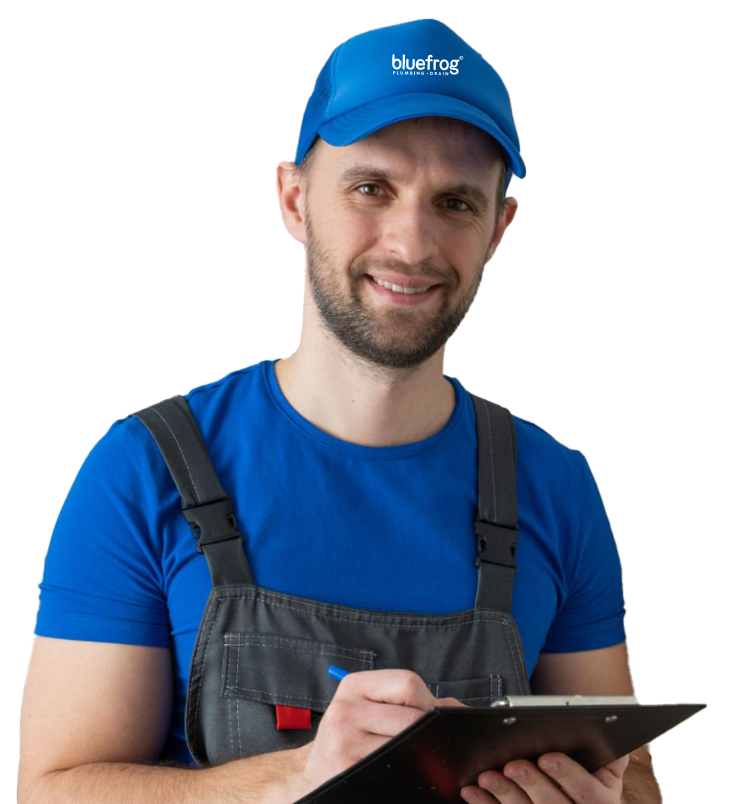 Protect Yourself Against These Silent Disasters
The most common cause of a gas leak in your home is a pilot light on your stove going out. Even though most modern stoves have automatic shut-off valves, you should always check your stove first if you smell gas in your home. If you can't relight the pilot light or if you continue to smell gas, call our gas leak detection company immediately.
If you smell gas in your home or if your hot water stops working, the problem might be your water heater. If you know how to access your water heater's pilot light. It's always a good idea to schedule maintenance visits from our gas leak repair company to prevent issues with your water heater.
A carbon monoxide leak is odorless and silent. The best way to protect against it is to schedule regular inspections of your furnace and other appliances that use combustion and to have bluefrog's gas leak detection team install a carbon monoxide detector.
Why Choose Bluefrog
For Your Residential Gas Leak Repairs
Professional, Affordable Emergency Plumber Repair
When it comes to the safety of your family in your own home, you need a professional you can trust to perform a gas leak repair. All the plumbers at bluefrog are licensed professionals and have experience with gas repairs of all kinds. We guarantee quality with every service we provide.
Hopefully, you never have to flee your home due to a gas leak, but if you do, we'll make sure you spend as little time away from your home as possible. Our bluefrog team is ready at any hour of the day or night to provide you with emergency gas leak repair services. We'll have you back to feeling safe in your home again in no time.
Emergency services can often throw a wrench in your finances. That's why we offer flexible financing options with the services we provide. We want to ensure you get the repairs you need when you need them. Contact your local bluefrog for financing details.
What Our Happy Clients Are Saying About Bluefrog Plumbing + Drain®