Water is one of the most used necessities in your home. Even if you buy bottled water for drinking, you use the water coming from your main water line for many of the tasks you complete throughout your day.
That said, having a waterline leak can be a disaster in your home. These leaks may start off small, but if they're not treated, they could shut down the whole water system in your property. When you notice that you have a leak or a broken water line, call bluefrog Plumbing + Drain® right away for residential water line repair.
Our experts can identify the waterline leak quickly and offer turnkey solutions for broken water line repair. Call us for reliable residential water line replacement and repair services.
Bluefrog Water Line Repair Services
Trusted Professionals for Water Line Replacement and Repair
It can be hard to identify a leak in your main water line, but if you suspect you have one, it's always better to call the professionals at bluefrog as soon as possible. Our licensed professionals will not only identify the problem, but we figure out what's causing the problem and perform thorough repairs to ensure it does not reoccur. For major or minor repairs, trust your local bluefrog team.
If you start to notice standing water in your yard when there's been no rain in the past few days, this could be a sign that there's damage to your pipes and you need a main water line replacement. The experts at bluefrog are skilled at assessing whether a replacement is needed, then at carrying out the job in a timely manner without destroying your whole yard.
You can't predict when a water line emergency will strike your home – or can you? With regular maintenance visits from bluefrog, you can anticipate weak spots in your water line and remedy potential disasters before they occur. There's no better way to protect your home and budget from plumbing disasters. Schedule your first maintenance visit today.
When you're surprised with a burst water line or another plumbing emergency, do you know where to turn? The plumbing professionals at bluefrog are standing by ready to address your emergency any time, day, or season.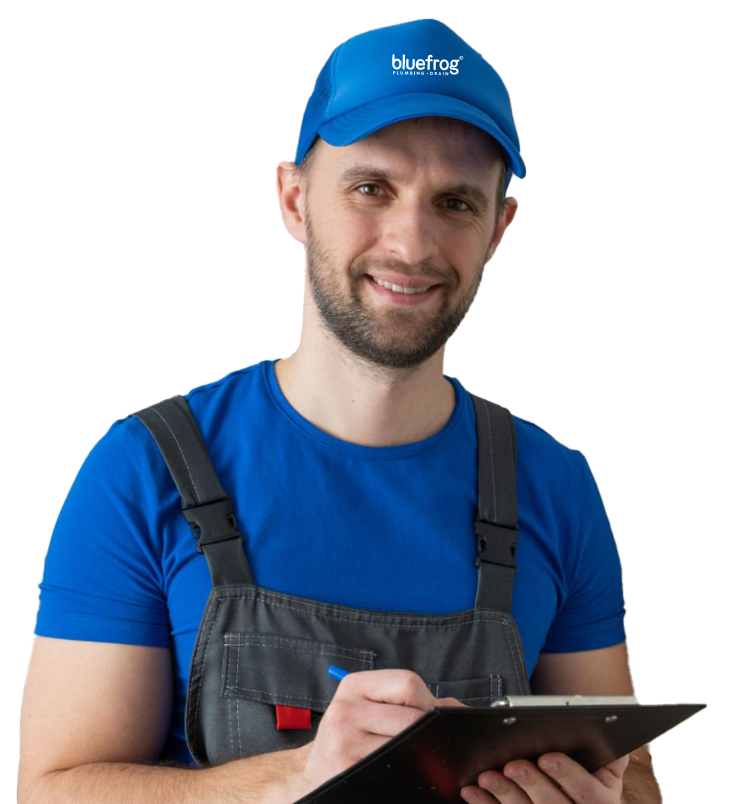 Bluefrog's Broken Water Line Repair Procedure
Quick and Efficient Plumbing Service
Before any repairs can take place, we have to first find where the problem is. We conduct a thorough inspection to get an accurate picture of where and what the damage is. We take our time to make sure we have found the underlying cause of the problem as well.
At bluefrog, we take our time to thoroughly diagnose the damage to your pipes before we decide to perform a water line replacement. We are careful to not under or over-diagnose the problem so that you're not paying for services you don't need and to ensure the problem does return.
Once we've exposed the problem, we replace or repair your water line by relining the pipe or using the specialized burst pipe hydraulic method. After the repair is complete, we examine it under pressure to make sure it is secure.
Why Choose Bluefrog for
Residential Water Line Replacement
Dependable Plumbers at Your Service
Don't let yourself be taken in by subpar plumbers who will charge too much, overlook the real problem, or even walk away without finishing the job. At bluefrog, we hire only the most dependable licensed professionals to join our team. We care about you getting the service you deserve.
Get the service you need when you need it with bluefrog's 24/7 emergency services. That's right, our plumbers are available any day of the year and any time of the day or night. Make sure you're prepared in the event of an emergency with help from bluefrog.
A main water line replacement isn't a cheap job, but if you need it, it's always better to get it rather than wait for an emergency. We do our part to help you prevent or remedy a disaster with affordable financing options. For more information on your options, contact your local bluefrog team.
What Our Happy Clients Are Saying About Bluefrog Plumbing + Drain®