A plumbing emergency can affect nearly every aspect of your home. How many days can you last without using running water to wash dishes, cook dinner, shower, or use the bathroom?
It's a good idea to have an emergency plumbing repair plan in case one of your water lines gets clogged, starts leaking, bursts, or is incapacitated in some other way. Finding an emergency plumbing repair service ahead of time could save you a lot of stress when something goes wrong.
Whether you're looking for an emergency plumber to call in times of crisis or you are currently experiencing a plumbing emergency, our team at bluefrog® is your first choice for quality, professional plumbing services.
We are available 24/7 to come to your rescue for burst pipes, broken water heaters, leaking floors, or any other emergency plumbing repairs.
Bluefrog Emergency Plumbing Services
Trained To Handle Plumbing Tasks of Any Complexity Level
Our emergency plumber service team is trained to replace or repair burst or leaking pipes. Our experienced plumbers work quickly to get the job done with as little mess as possible. We always leave your residence as clean as it was before the emergency.
Gas leaks are some of the most serious plumbing emergencies you can face in your home. Our experts will identify and repair your leak, making sure it won't happen again. We can also install leak detectors to protect your family in the event of another emergency.
A broken water heater can be most problematic in the winter when you're dependent on hot water to stay comfortable. Fortunately, bluefrog's emergency plumber service doesn't care what time of the year – or time of the day – it is! We're always ready to repair, replace, or maintain your water heater.
At bluefrog Plumbing, we specialize in all plumbing and drain repairs. From emergency water filtration and sewer line repair to drain cleaning and main water line replacement, you can count on us to get the job done quickly and efficiently. Call us for any emergency plumbing service.
Plumbing catastrophes don't typically occur out of the blue. If you notice any issues with your plumbing fixtures, call our local residential emergency plumbing team right away. Your satisfaction and peace of mind are our top priority.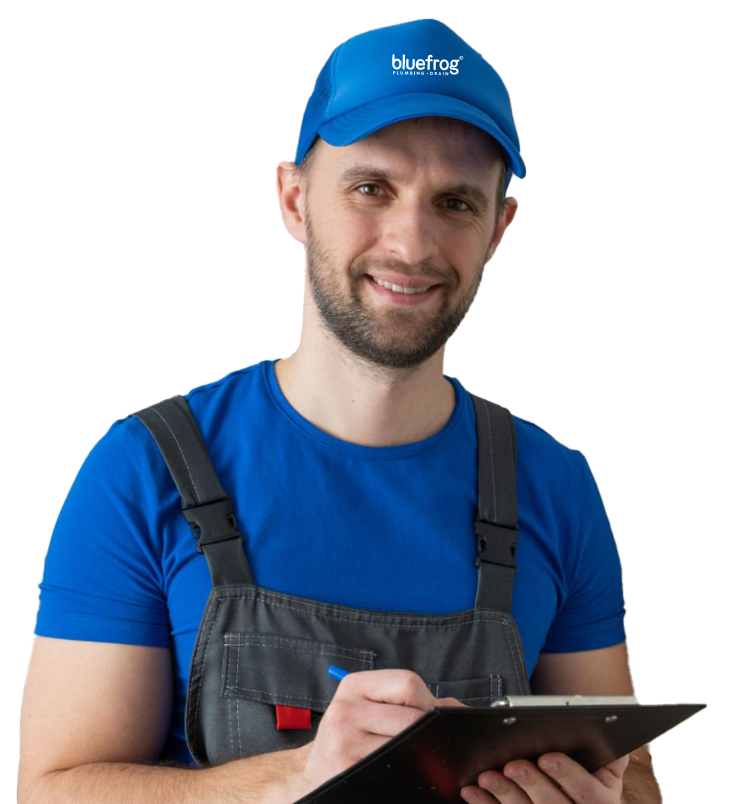 Top-Rated Emergency Plumber Service
Dependable Plumbing Repairs
Our 24/7 emergency plumber repair visits are as good as they sound. We are available for your unexpected plumbing disaster any day of the week or year, and any time of the day or night. If you notice a leak in your roof, walls, yard, or floor, don't hesitate to give your local bluefrog emergency plumbers a call.
You don't need to worry about the cost of our initial inspection and diagnosis on top of the repair service charge. At bluefrog Plumbing, we offer free diagnostics if you choose our emergency plumbing company to complete the repairs we identify. Our residential emergency plumbers are thorough, exceptional, and dependable.
Unlike some emergency plumbing companies, we don't charge extra for night, weekend, or holiday visits. If that's when you need us, that's when we'll be there. Waking up in the middle of the night due to a gas leak is stressful enough. We won't make it worse by hiking up the cost of our emergency plumbing service.
Why Choose Bluefrog
for Your Plumbing Emergency
Professional, Affordable Emergency Plumber Repair
You may have received repairs from some emergency plumbing companies that make you wonder if they even know what they're doing. With bluefrog Plumbing, you'll never doubt our dependability. We hire only the best licensed professionals to handle your emergency plumbing needs.
Look no further for your number one emergency plumber repair service. We offer free diagnostics with our repairs, we don't charge overtime, and our plumbers are always trustworthy, thorough, and fair. No matter what day or time you call, we are always ready with exceptional emergency plumber services.
Don't tie yourself in knots with worry over the bill for your plumbing emergency. We offer excellent service for a fair price, but to ease the burden on your finances, we also offer flexible payment options. Your local bluefrog Plumbing will have details on what payment plans are available to you.
What Our Happy Clients Are Saying About Bluefrog Plumbing + Drain®